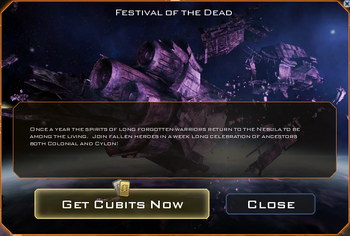 Festival of the Dead was a Halloween event in 2012. The event began on 31st of October and ran for one week until 6th of November.
Players could find special asteroids, known as Spooky Orange Asteroids and Spooky Green Asteroids. Destroying these asteroids rewarded players with various items and ammo not normally found in common loot.
The spooky asteroid fields were guarded by drone type ships, known as Phantom ships. These ships appearance were of Colonial and Cylon ships but with heavy damage. Destroying Phantom ships counted towards the Drone Clearance daily assignment.
Event Promo
Edit
Join us in the Festival of the Dead (Oct. 31 – Nov. 6) Once a year, the spirits of long forgotten warriors return to the Nebula to be among the living. Join fallen heroes in a week long celebration of ancestors both Colonial and Cylon. Find zombie ship drones guarding special asteroids across multiple sectors and mine colorized asteroids to earn scarce loot and rewards.
Pilots, beware as there may be looming trick-or-treats nearby while traveling across the universe!
Colonials have long celebrated the Festival of the Dead, a gathering of family and friends who pray for the souls of loved ones who have passed.
With their resurrection ship destroyed, the Cylons now observe this tradition as well. What happens to the souls of those who perish in depths of space?
During this event, which will start on the 31st, players can find haunted fields of eerie green and orange asteroids within certain sectors. Destroying the asteroids will yield generous treats.
Halloween Sale
Edit
During the event, some items were on sale.
"We have several items discounted at 20% off this week:
Don't delay, take advantage of these discounts today!"
Ad blocker interference detected!
Wikia is a free-to-use site that makes money from advertising. We have a modified experience for viewers using ad blockers

Wikia is not accessible if you've made further modifications. Remove the custom ad blocker rule(s) and the page will load as expected.