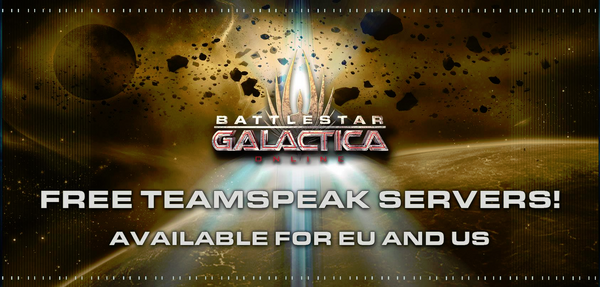 Teamspeak is a Voice over the Internet Program (VOIP) which many players in Battlestar Galatica online have used as a means of having real time voice communication with fellow players (usually their wing mates and squad mates) in the game.
In early January 2016, in recognition of this, BigPond made the following announcement -
Announcement and Details
Edit
You are not a typical loner and like to share the fun in the game with others? You like to talk or are looking for a conversion with others while playing? Then visit one of the two BSGO Community TS3 servers. You have the choices: US or EU server.
You are welcome to also apply for a wing-Channel for at least 15 members which can be done with the link below.
http://request.bsgocom.de/index.php?a=add&catid=2
US BSGO Community TS3-Server:
TS3-IP: bsgo-ts.us:10000 or 108.61.219.48:10000
Location: Los Angeles – USA.

EU BSGO Community TS3-Server:
Location: Frankfurt – Germany.
Ad blocker interference detected!
Wikia is a free-to-use site that makes money from advertising. We have a modified experience for viewers using ad blockers

Wikia is not accessible if you've made further modifications. Remove the custom ad blocker rule(s) and the page will load as expected.