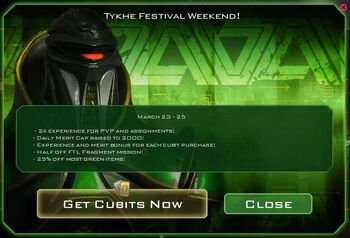 The Tykhe Festival was BSGOs Spring Sale event which ran over the weekend of March 23rd to the 25th 2012.
The event involved a Double XP event with the Merit cap increased from 1,500 to 2,000.
The FTL Fragment mission cost to play was reduced by half from 100 FTL Fragmented Coordinates down to 50.
Players received an increased income bonus to XP and Merits if they purchased Cubits.
All green colored consumables had a 25% discount, such as ammo, missiles, DC packs, Power cells.
Description
Edit
Come one, come all!
The time has come for the Tykhe Festival to begin! Tykhe, Lady Luck herself is shining down on the pilots of BSGO. Both factions will feel a little bit luckier this weekend as everyone benefits from her good graces!
• Double XP Event with boosted merit cap
• 25% off all basic Green consumables including ammo, DC Packs, Power Cells, etc.
• Lucky in-game bonus mail!
Be sure to hop on and feel the luck!
Ad blocker interference detected!
Wikia is a free-to-use site that makes money from advertising. We have a modified experience for viewers using ad blockers

Wikia is not accessible if you've made further modifications. Remove the custom ad blocker rule(s) and the page will load as expected.