Battlestar Galactica Online - Game Update 21 - A new Nidhogg
9 October 2013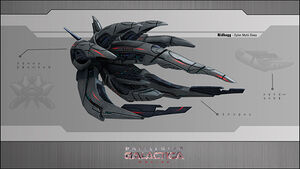 This update will contain the new model for the Nidhogg and smaller improvements and bug fixes.
Pilots,
With this update we are going to introduce a new and improved ship model for the Nidhogg. It has a better appearance and shape now, so take a look at this beauty:
New model for the Nidhogg
EnvironmentEdit
Improved the areas for NPCs to avoid players appearing amidst of groups of enemy NPCs after entering a sector
Updated the client to the newest version of Unity (4.2.1.) in order to reduce the amount of client crashes.
Fixed an issue where it was possible to have the option to command a ship that's already under command
Fixed an issue where mining ship warnings have been displayed twice
Fixed an issue where it was not possible to target ships behind mine
Ad blocker interference detected!
Wikia is a free-to-use site that makes money from advertising. We have a modified experience for viewers using ad blockers

Wikia is not accessible if you've made further modifications. Remove the custom ad blocker rule(s) and the page will load as expected.