Battlestar Galactica Online - Game Update 27 - Feast of Poseidon
4 December 2013
This release will contain our Winter Event "Feast of Poseidon", a quick play feature for "Dradis Contact" and bug fixes.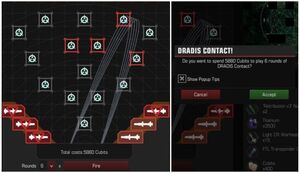 Our Winter Event "
Feast of Poseidon 2013
" will start on December 5th. Find more information in the Event page.
Test our new "quick play" feature for the "Dradis Contact" game! You are now able to choose how many rounds you would like to play automatically (1 to 10) using a certain amount of missiles per round. See the picture:
Winter EventEdit
Dradis ContactEdit
Implemented a quick play function
Fixed an issue where consumables had the wrong icons in Dradis Contact
Fixed an issue where the cost for Dradis Contact spin was not updated after deselecting a target
Fixed an issue where orbital cam wasn't available when moving mouse to certain areas of the UI
Fixed an issue where NPCs that attacked the mining ship sat still after its destruction, those NPCs will now attack the player if in range
Ad blocker interference detected!
Wikia is a free-to-use site that makes money from advertising. We have a modified experience for viewers using ad blockers

Wikia is not accessible if you've made further modifications. Remove the custom ad blocker rule(s) and the page will load as expected.