Battlestar Galactica Online - Game Update 55 - Brackets
23 March 2016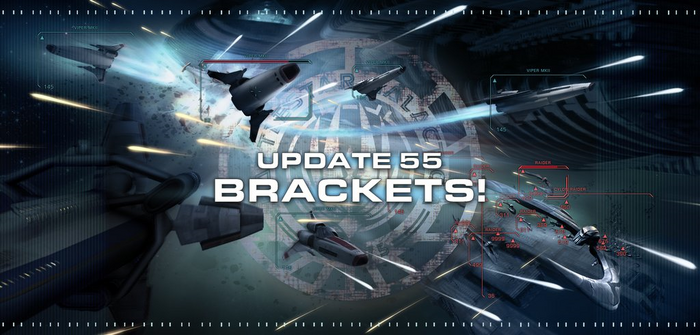 Hello Battlestar Galactica Online fans,
We are deploying an update to all live servers on Wednesday, March 23rd. This release features an overhauled target bracket system, new HUD options for maximum customization pleasure and some bug-fixes. The estimated game downtime is 2 hours.
Additional details about this release below.
Overhaul of the HUD indicator (aka bracket) system
Edit
Target bracket redesign
Improved text readability
New "HUD" options menu
New customization options

Color scheme: Factions / Friend or Foe (default for new players: Friend or Foe)
Show ship tier icon: on/off
Show bracket crosshair
Show target health bar
Bracket scaling: on/off (target bracket size is scaling with target distance)
Scalable distance for target bracket minimization
Scalable bracket description fadeout distance
Adjustable text size;Show assignment updates
Show XP progress bar

Player can now hide (de-select) a chosen title
Added glow to orientation arrow to help with visibility on certain backgrounds
Any remaining Uranium from the "Twilight of the Gods" event has been exchanged for Titanium
Each unit of Uranium has been replaced by 30 units of Titanium.
Fixed a bug where ships would sometimes not have full hull-points after having had a full repair
Fixed spawn zones for sector "Rayet" and "Canaris"
Fixed several localization inconsistencies.
24th March
Edit
On March 24th we released a hot-fix for Game Update 55 featuring the following fixes:

Fixed selection/targeting behavior for cloaking stealth ships
Fixed a problem where CIC/Basestar dialogues could get stuck in the loading screen.
Additional fixes will follow after the Easter Holidays.
Ad blocker interference detected!
Wikia is a free-to-use site that makes money from advertising. We have a modified experience for viewers using ad blockers

Wikia is not accessible if you've made further modifications. Remove the custom ad blocker rule(s) and the page will load as expected.