Battlestar Galactica Online - Game Update 60.5 - 6th Anniversary Celebrations
16 February 2017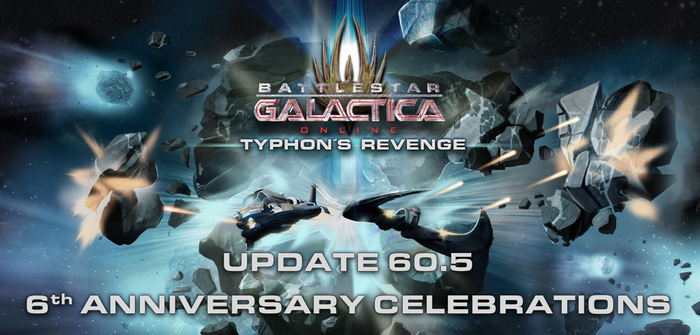 Hello pilots,
We are deploying an update to all live servers on Thursday 16th February at 11am CET. (Estimated downtime – 2 hours).
This release will contain the Typhon's Revenge event with updated event shop rewards. You'll have another chance to earn many old event paints and some new plus the usual set of consumables.
Additionally, we've added some smaller bugfixes and improvements to this release.

Typhon's Revenge Event

Hunt comets, white asteroids, special convoys and earn Typhon's shards.
Improvements
Edit
Resized leaderboards to fit into minimum resolution.
Fixed a bug where multiple 3D avatars were stacking in the profile view
Fixed some tooltip formatting issues
Updated spawn zones in Raastaban & Huginn to be more distanced to some outer planetoids.
This event is part of the 6th Anniversary Celebrations – let's keep the party going!
Watch out for the next goodie on our social media channels!
Ad blocker interference detected!
Wikia is a free-to-use site that makes money from advertising. We have a modified experience for viewers using ad blockers

Wikia is not accessible if you've made further modifications. Remove the custom ad blocker rule(s) and the page will load as expected.